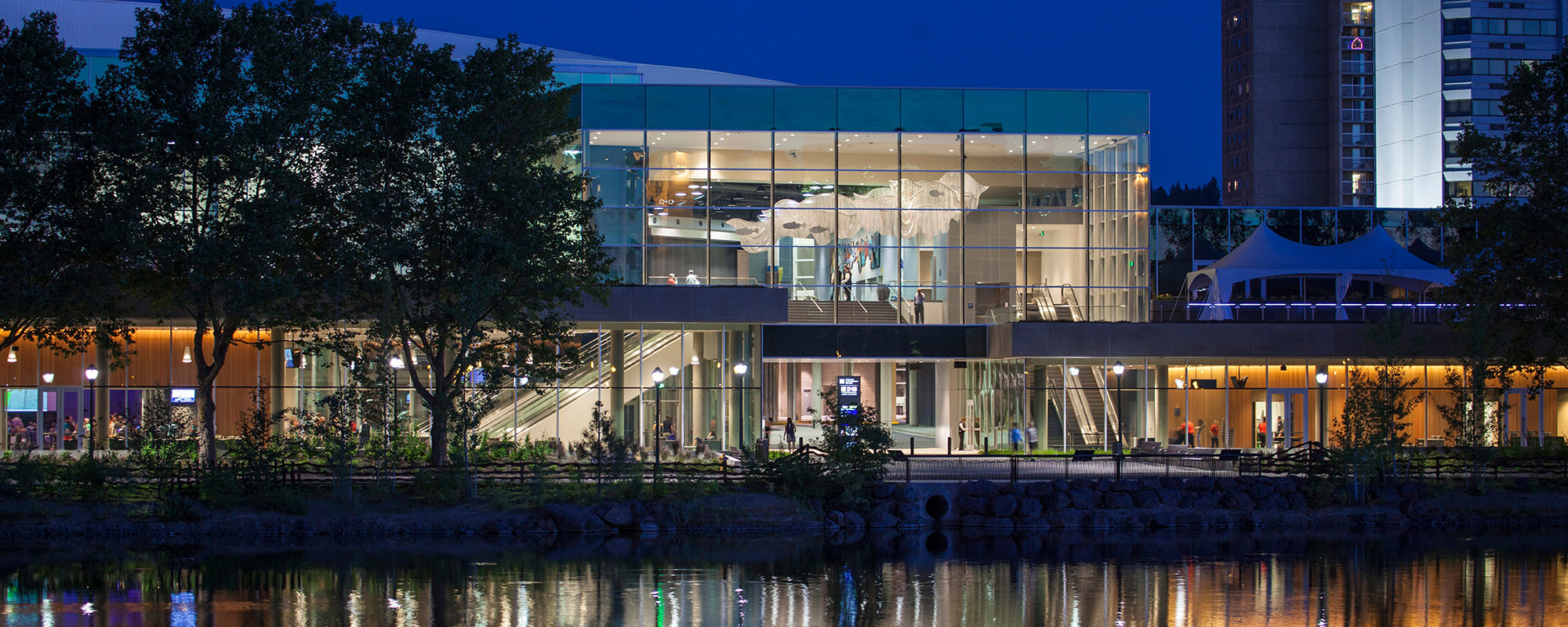 Spokane Convention Center Expansion
Location
Spokane, Washington
Owner
Spokane Convention Center
Associate Architect: ALSC Architects
Design-Build Contractor: Garco Construction
Structural Engineering: DCI Engineers
Mechanical & Electrical Engineering: MW Consulting Engineers
Civil Engineering: DCI Engineers
Landscape Architecture: Land Expressions
Lighting Design: Horton Lees Brogden Lighting Design
Graphics/Signage: Widmeyer Design
Project Size
New area: 90,000 square feet
Renovated area: 20,000 square feet
Project Status
Completed
Certifications
Certified LEED New Construction Silver
Services
Architecture, Interior Design, Planning, Renovation + Adaptive Reuse
The Spokane Convention Center is located in a unique setting, on the banks of the Spokane River. Facility expansion occurs within a challenging site footprint: a hotel separates the expansion parcel from existing spaces, and the curved path of Spokane Falls Boulevard creates an irregular site geometry.
The Expansion project doubles the total Exhibit area and creates a series of signature spaces overlooking the river. The most noticeable feature of the expansion's design concept is its exterior shape. This form evolved from an extensive series of explorations on how best to resolve the desire to build a large space within a prominent, yet complex site.
The curve of the road from Division Street to Spokane Falls Boulevard forms the East and South edges of the site and prompted the curved geometry of the Exhibit Hall's walls. The gradual curves make the building narrower at both ends, reducing its impact on Spokane Falls Boulevard on the south, and the river and restaurant along the north side.
Similarly, the roof of the Exhibit Hall results in a highly efficient structural system and also reduces the height of the building where it meets the street. The curved form achieves the largest single Exhibit space for this site, but also makes it seem smaller (both in width and height) than a comparably sized "box." The functional logic that gives the building its shape is also what makes it distinctive.
Selected Awards
2018 AIA Washington Council Civic Design Award, Honorable Mention