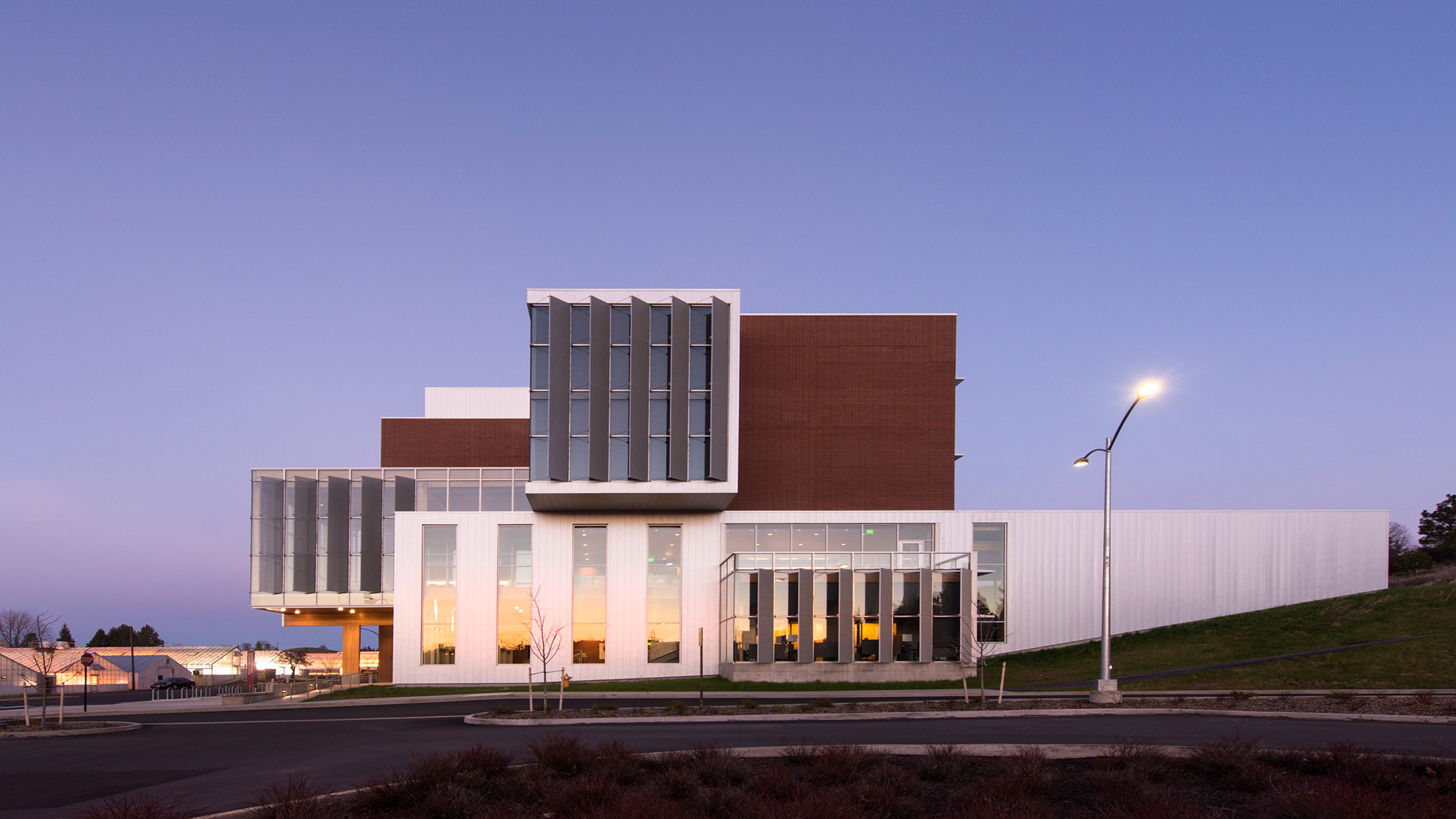 PACCAR Environmental Technology Building
Washington State University
Location
Pullman, Washington
Owner
Washington State University
Design-Build Contractor: Skanska
Laboratory Planning: Research Facilities Design
Structural Engineering: Coughlin Porter Lundeen
Mechanical Engineering: PAE Consulting Engineers
Electrical Engineering: Sparling
Civil Engineering: Coughlin Porter Lundeen
Landscape Architecture: Swift Company LLC
Lighting Design: Candela
Project Size
96,500 square feet
Project Status
Completed
Certifications
Certified LEED New Construction Gold
Services
Architecture, Interior Design, Planning
The PACCAR Environmental Technology Building—the interdisciplinary research and education center in renewable materials, sustainable design, water quality, and atmospheric research for Washington State University—was designed to reflect the University's position of leadership, technological advancement, and commitment to research and innovation in the use of wood and other materials.
The architectural concept derives from two overall program functions: a "Workhorse Bar" housing secure laboratories, offices, and workstations; and a public "Showcase Bar" that presents ongoing research to the campus. Transparent workspaces, such as a high-bay heavy materials lab, seminar room, and flexible collaboration studio, encourage engagement between researchers, industry partners, and the larger campus community.
The PETB models the practices it promotes, with construction incorporating renewable materials and technologies for which WSU contributed to the development, including engineered wood products, recycled concrete, and previous pavement. The building also demonstrates water capture and re-use, heat recovery, individual control of air quality factors, maximized daylighting, optimal siting and incorporation into its landscape, along with numerous other features that mark PETB as a benchmark of sustainable design and the greenest building to date on WSU's Pullman campus.
Photography: Adam Hunter, Ed LaCasse