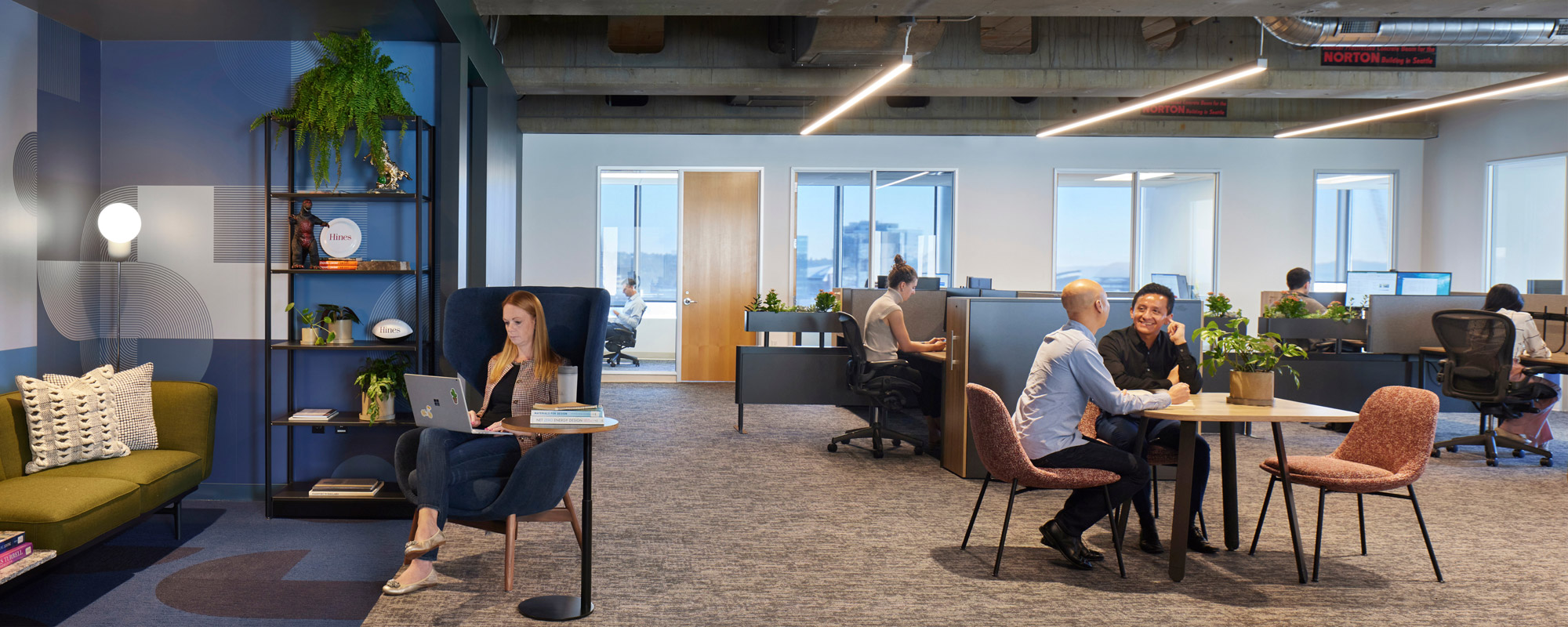 Hines Seattle Headquarters
Location
Seattle, Washington
Owner
Hines Interests Limited Partnership
General Contractor: Sellen Construction
MEP Engineer: Hermanson Company LLP
Lighting Design: Titan Electric with LMN Architects
Furniture Selection: Porter
Material Vendor: Formology Architectural Products
Casework: Custom Interiors
Project Size
Renovated area: 7,120 square feet
Project Status
Completed
Services
Interior Design, Renovation + Adaptive Reuse
The Hines Seattle Headquarters on the Norton Building's 8th floor stands as an innovative example of low carbon design due to minimizing waste and maximizing reuse. From a feature wall composed entirely of wood offcuts to a glazed entry pulled from onsite salvaged glass, the design team recycled materials whenever possible and considered the carbon impact of every detail. Designing to retain, reuse, and source salvaged materials resulted in a measured 65% embodied carbon reduction compared to a typical remodel that begins with an empty shell. If the same design solely relied on specifying low-carbon options, it would only result in a 22% reduction.
The resulting remodel introduces clean lines and elegant finishes to the workplace, elevating the already-existing layout into an international-inspired office space complete with conference rooms, breakout spaces, a modernly appointed kitchenette, and communal work area. A reclaimed lumber feature wall made with sourced offcuts stands out in the reception area, while a custom table, made with salvaged wood from a fallen tree in the Madrona neighborhood of Seattle, anchors the large conference room.
Thanks to a strong partnership with Hines and shared sustainability goals, LMN was able to create a new standard of low carbon design.
Photography: Benjamin Benschneider