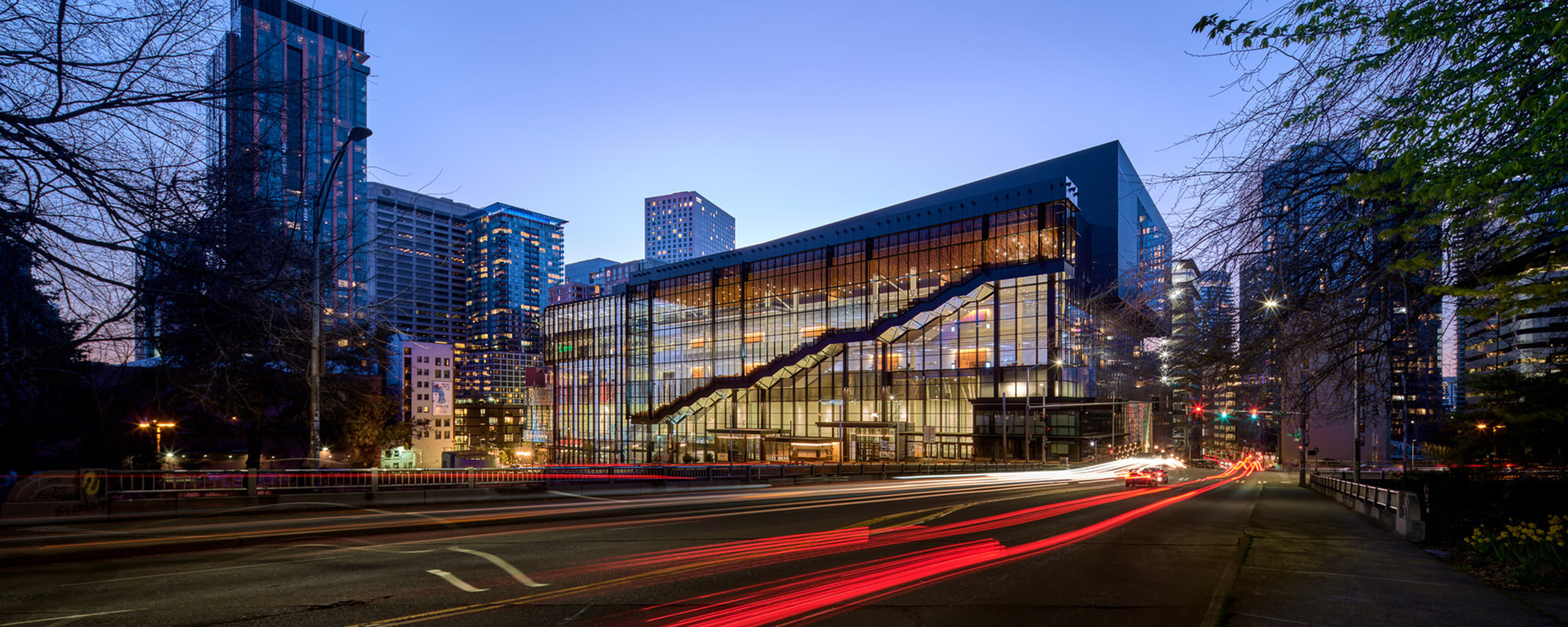 Seattle Convention Center Summit Building
Location
Seattle, Washington
Owner
Washington State Convention Center
Associate Architects: Graham Baba Architects, Scharrer AD, Rolluda Architects, Tiscareno Associates
Owner's Representative: Pine Street Group
General Contractor / Construction Management: Clark/Lewis
Structural Engineering: Magnusson Klemencic Associates
MEP Engineering: Arup
Civil Engineering: Magnusson Klemencic Associates
Landscape Architecture: Gustafson Guthrie Nichol
Lighting Design: Horton Lees Brogden Lighting Design
Graphics/Signage: Studio Matthews
Food Service: Ricca Design Studios
Project Size
1,500,000 square feet
Project Status
Completed
Certifications
Targeting LEED New Construction Platinum
Services
Architecture, Interior Design, Planning, Urban Design
The Seattle Convention Center Summit building presents a transformative opportunity at the intersection of an emerging culture of the delegate of the future, the evolving trends in the convention center industry and the development of Seattle's urban core. As a catalyst for revitalizing and re-connecting Seattle's core neighborhoods, the integration of Summit with its surroundings will be the basis for a rich and unique experience for both delegates and residents, an experience that is unique to Seattle.
Located at the crossroads between more than seven of Seattle's most iconic neighborhoods and touching four of its most prominent streets, the site positions the project to uniquely function as a connecting hub for multiple urban districts, redefining the long-anticipated mixed-use development zone north of the downtown retail core. The building engages the urban form at all its 15 levels while each façade presents a highly interactive, transparent edge, blurring the boundaries of the site with the city context and the building program. Each program component embraces natural light and the major program spaces are connected vertically with two large atriums.
A glass-enclosed stair along Pine Street positions the interior circulation patterns at the edge of the building, creating dramatic west-facing views to the Pike Place Market and Puget Sound, and broadcasting the energy of convention visitors. A street plaza at the corner of Pine and 9th Avenue collects the activity of residents and visitors alike. The project's contributions to the public realm are as massive as its scale, navigating a diverse mix of public-private intersections while catering to the next generation of convention delegates.
Photography: Tim Griffith, Adam Hunter