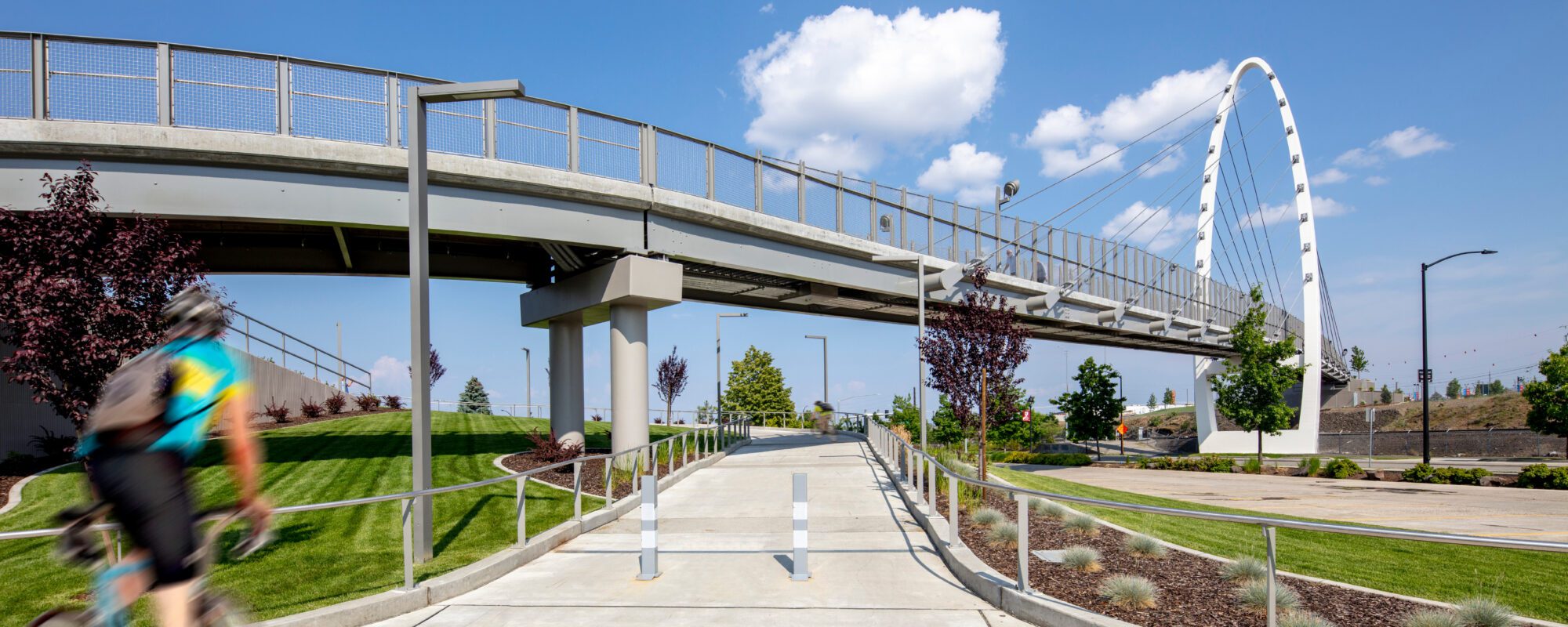 University District Gateway Bridge
Location
Spokane, Washington
Owner
City of Spokane
Prime Consultant: KPFF Consulting Engineers (Structural, Civil, and Plumbing Engineering)
General Contractor: Garco Construction
Mechanical & Electrical Engineering: MW Consulting Engineers
Landscape Architecture: Sherry Pratt Van Voorhis, P.S.
Lighting Design: MW Consulting Engineers
Project Size
Bridge length: 450 feet
Project Status
Completed
Services
Urban Design
The University District Gateway Bridge is in Downtown Spokane, located between the University District and the East Sprague neighborhood. The dual-span bridge crosses over the BNSF railway and East Martin Luther King Jr. Way, generating new connections within the local community and fostering new development in the traditionally underdeveloped Sprague neighborhood.
The robust details of the 450-foot span bridge were inspired by traditional railyard bridges, while the 120-foot tall concrete arch establishes the bridge as an icon and significant new landmark on Spokane's skyline. The bridge deck is suspended from the arch with thick steel cables and stout connectors, creating a visual counterpoint to the graceful curve of the bone-white arch. The sturdy 10-foot-high throw barrier required by the railroad completes the composition with built-in pathway lighting. At night four large floodlights and the programmable color-changing LED system illuminate the iconic structure, enhancing its visibility from throughout the city.
The University District Gateway Bridge and plazas at the north and south create a new civic space revitalizing and connecting the University District, spurring much-needed economic growth on the south side of the tracks and linking the university with housing and retail opportunities.
Selected Awards
2022 Best of BEGA, Honorable Mention
2020 Chicago Athenaeum, American Architecture Award
2019 AIA Washington Council Civic Design Award, Honorable Mention