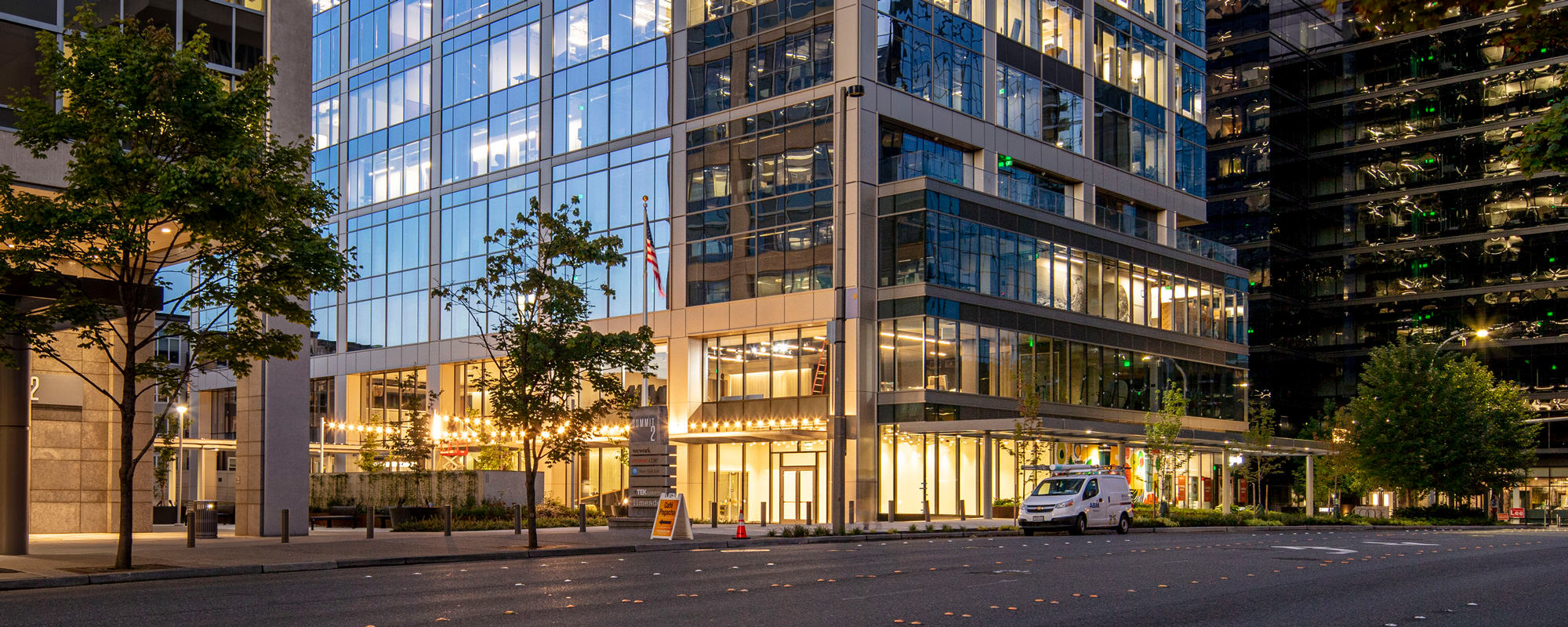 Location
Bellevue, Washington
Owner
Hines
General Contractor: JTM Construction
Structural Engineering: Magnusson Klemencic Associates
MEP Engineering: ME Engineers
Civil Engineering: Pace Engineers, Inc.
Landscape Architecture: Berger Partnership
Lighting Design: Lighting Design Inc.
Graphics/Signage: Studio SC
Project Size
372,118 square feet
Project Status
Completed
Services
Architecture
Summit III adds a third tower to the Summit Ridge complex and fulfills the vision of the master plan first developed by LMN in 1999. Summit III's revised steel structure adds two additional floors on the existing constructed foundation, maximizing the potential development envelope of the site. With open floor plans, floor-to-ceiling glass, and highly efficient systems, this new tower is designed to meet the evolving expectations of technology sector tenants.
Summit III brings additional rentable space to the corner of 108th Avenue NE and NE 4th Street and will be built on top of an existing 7-story, below-grade parking garage. High ceilings, flexible tenant floors, and additional elevators and restrooms support high occupant density, while ground floor gathering and alternative workspaces provide flexibility and enhanced collaboration. The integration of highly efficient systems allows for 70-percent vision glass to provide natural daylight to interior spaces and promote occupant well-being. The project is pre-certified LEED v4 Gold and has been certified as Designed to Earn the ENERGY STAR.
Offering flexibility and adaptability for tenants in fast-paced digital industries, Summit III creates an attractive, comfortable, and efficient environment for those who will spend most of each day there. High-performance integrated systems allow for the incorporation of floor-to-ceiling glass on all levels while meeting Bellevue's aggressive energy code and the client's sustainability goals. Extending beyond the tenant floors, the building's street-level amenities combine meeting, lounge, lobby, and retail spaces to create a central gathering area with a marble-framed fireplace. The aluminum-clad elevator core on the first and second floors provides an interesting, uniquely modern textural detail. An expanded exterior plaza features new catenary lighting, retail spill-out space, and seating areas, as well as planned public art. A covered walkway completes the master plan's internal circulation and connects to Summit II's ground floor amenity spaces.