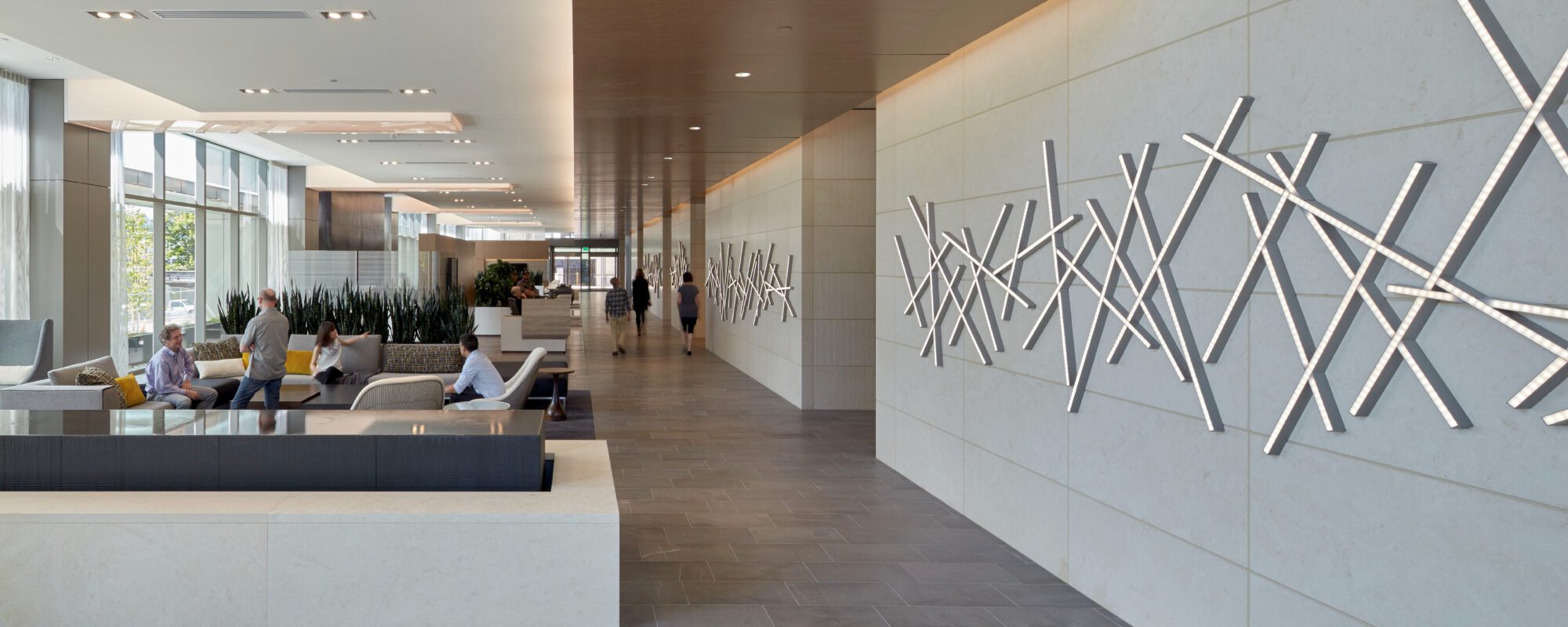 Location
Bellevue, Washington
Owner
Trammell Crow Company
General Contractor: Lease Crutcher Lewis
Structural Engineering: DCI Engineers
Mechanical & Plumbing Engineering: Holaday-Parks, Inc.
Electrical Engineering: Veca Electric
Civil Engineering: DCI Engineers
Landscape Architecture: Weisman Design Group
Lighting Design: Luma Lighting Design
Project Size
402,000 square feet
Project Status
Completed
Certifications
Certified LEED Core and Shell Gold
Services
Architecture, Interior Design
Setting a precedent for the next generation of high-rises in downtown Bellevue, the 929 Office Tower offers tenants a set of amenities, technology, and finishes similar to a high-end hospitality experience. The project builds on the emerging dense, mixed-use character of downtown, balancing its traditional auto-oriented commuter pattern with increasing levels of pedestrian and residential activity.
The 19-story office tower lies midway along the edge of a 600'x600' "superblock." The design adds a new street through the block, opening opportunities for pedestrian and vehicular access while endowing the tower with a strong corner presence. The ground level is devoted to retail storefronts and an expansive Great Room, including social lounges, conference facilities, and a fitness center. A new parking garage, sited behind the building at the center of the block, connects to the ground level via a semi-covered pedestrian plaza, large enough to host outdoor seating and spillover from conference events.
To amplify the tower's identity, the massing forms a distinctive "lantern" over the primary street entrance, lit with exterior LEDs at each floor level to create a striking vertical pattern on the downtown skyline. The gesture signals the project's forward-looking vision – it is the first in Bellevue to meet the new state energy code, and among the first in the world to offer tenants interactive "smart" technologies such as individual control of lighting, elevator calls, and air conditioning through phone apps. The office floor design – featuring 9-foot ceilings – enables the penetration of daylight deep into the core and emphasizes the building's flexibility for the unique needs of tenants in the tech sector.
Photography: Doug Scott, Mike Walmsley