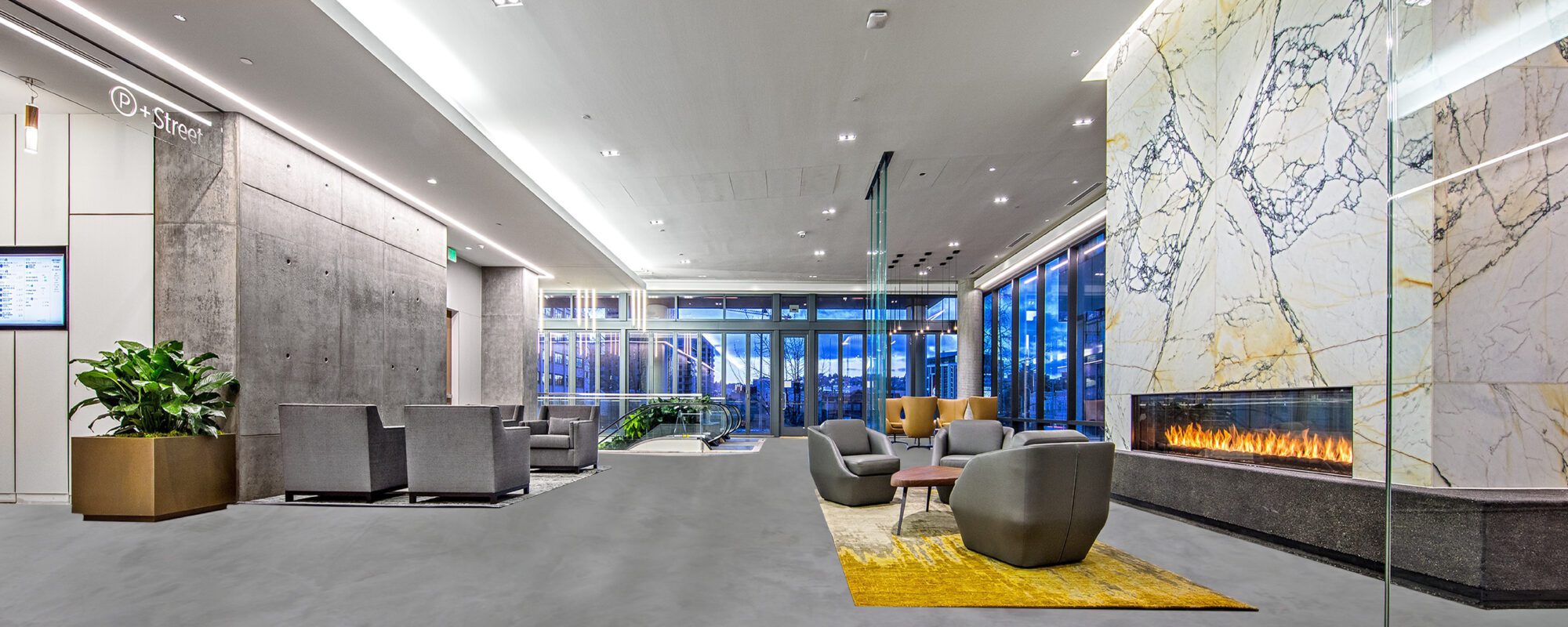 Location
Seattle, Washington
Owner
Trammell Crow Company
General Contractor: Howard S. Wright
Structural Engineering: Magnusson Klemencic Associates
Mechanical & Plumbing Engineering: Holaday-Parks, Inc.
Electrical Engineering: Cochran Marine LLC, Gerber Engineering
Civil Engineering: Coughlin Porter Lundeen
Landscape Architecture: SiteWorkshop
Lighting Design: Luma Lighting Design
Graphics/Signage: Michael Courtney Design
Project Size
355,000 square feet
Project Status
Completed
Certifications
Certified LEED Core and Shell Gold
Services
Architecture
The Midtown21 Office Building reimagines the office tower typology to accommodate a new generation of tenants in the tech sector, focusing on flexibility and interactivity. The 21-story, Class A office tower commands a vibrant street corner in Seattle's rapidly transforming Denny Triangle district, setting a precedent for sustainable, civic-oriented design on a city-designated "Green Street."
Denny Triangle connects downtown Seattle with the emerging, tech-dominated South Lake Union district, driving a need for new thinking about high-rises that meet the unique needs and values of today's tech companies. A publicly accessible Great Room fills the entire second level of the building, leaving the ground floor free for retail along all street frontages. Social lounges, conference facilities, and a fitness center are integrated with the Great Room, including an outdoor terrace overlooking the street. Retail along Terry Avenue is set back from the edge of the site and covered by a rain canopy, creating an extra-wide sidewalk arcade to encourage social gathering and allow generous vegetation.
Expressing the interweaving of multiple urban neighborhoods, the façade features a pattern of digitally fabricated, precast concrete spandrels resembling a woven net, which creates dynamic patterns of light and shadow throughout the day. Office floor heights of 10 feet – expandable to 12 feet by removing the acoustical ceiling tiles – translate the voluminous feel of industrial loft buildings traditionally preferred by tech tenants to a vertical tower condition. The high ceilings are ideal for daylight penetration into the floor plate, with dramatic views of the surrounding city. The LEED Gold building is among the first high-rises in Seattle to meet the city's stringent energy code.
Photography: Adam Hunter, Michael Walmsley