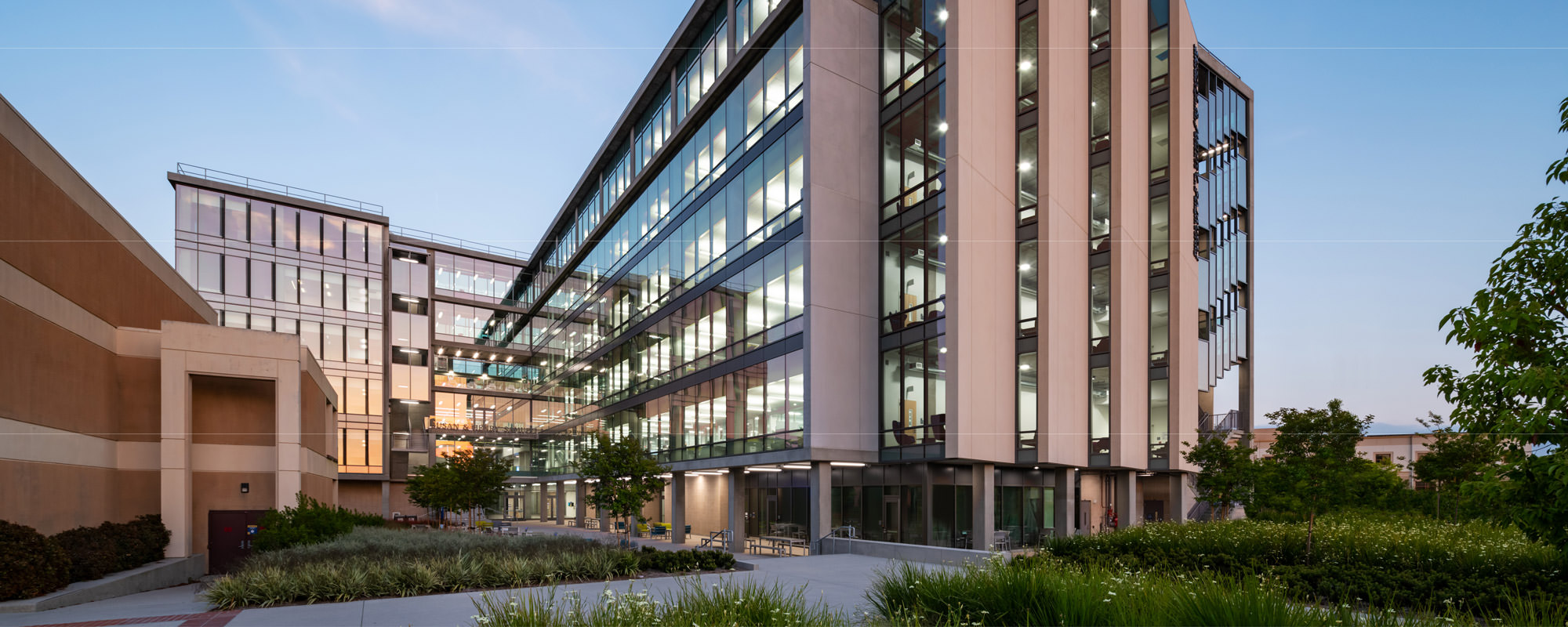 Interdisciplinary Science & Engineering Building
University of California, Irvine
Location
Irvine, California
Owner
University of California, Irvine
Design-Build Contractor: Hathaway Dinwiddie Construction Co.
Laboratory Planning: Research Facilities Design
Structural Engineering: Saiful Bouquet
MEP Engineering: Alvine Engineering
Mechanical Engineering: Critchfield Mechanical, Inc.
Electrical Engineering: A.J. Kirkwood & Associates
Civil Engineering: FPL and Associates
Landscape Architecture: AHBE | MIG
Project Size
204,750 square feet
Project Status
Completed
Certifications
Certified LEED New Construction Platinum
Services
Architecture, Interior Design, Planning
Representative of UCI's commitment to advance interdisciplinary science and engineering research, the Interdisciplinary Science and Engineering Building serves as a catalyst for research innovation and a model of cross-discipline collaboration. The design is a holistic response to both the functional program, the specific site conditions, and broader campus relationships. The building interconnects its internal academic functions with the fabric of the campus, fostering the interdisciplinary culture of the building while exerting its presence within its overall educational community.
The building is approached from the west and north via a large arrival plaza that leads directly to the Community Hub, positioned at the nexus of the office wing and the lab bar. The primary entrance is at the ground floor lobby, a multi-functional space that serves auditorium pre-functions and informal gatherings. Once inside, program spaces are organized on six floor levels in an L-shape configuration. Labs are located in the east-west bar and offices are in the north wing with views to the Ring Mall and Aldrich Park. A central Community Hub interconnects the two, serving as the focus of collaborative engagement across research disciplines.
The project has set a new standard for the future of research programs at UCI. It successfully embodies the University's culture of collaboration and interdisciplinary engagement while providing cost-effective spatial solutions for high-quality research and office spaces. Every aspect of the design was conceived to optimize research functionality, foster social performance, and enrich the overall campus experience, keeping UCI at the forefront of innovation in higher education.
Photography: Tim Griffith