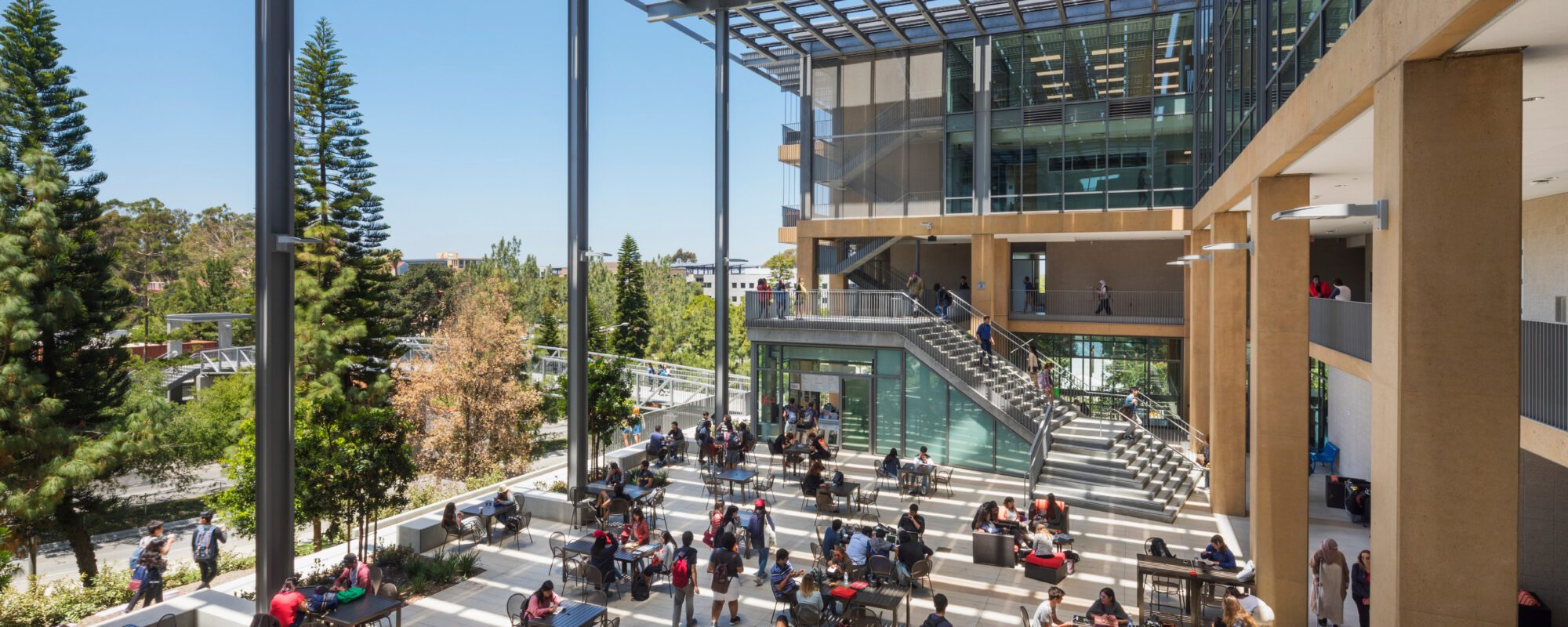 Division of Continuing Education Building
University of California, Irvine
Location
Irvine, California
Owner
University of California, Irvine
Associate Architect: Carrier Johnson
Design-Build Contractor: Hathaway Dinwiddie Construction Co.
Structural Engineering: DCI Engineers
MEP Engineering: Alvine Engineering
Electrical Engineering: Stantec
Civil Engineering: FPL and Associates
Landscape Architecture: AHBE Landscape Architects
Project Size
75,000 square feet
Project Status
Completed
Certifications
Certified LEED New Construction Platinum
Services
Architecture, Interior Design, Planning
The new heart of UC Irvine's Division of Continuing Education (DCE) establishes a social nexus for students from diverse backgrounds, woven into the campus fabric and responsive to the local climate. Indoor and outdoor functions blend into a pattern of fluid interactions, united by a central outdoor courtyard, coffee shop, and flexible event spaces.
The site, located on the rapidly developing east side of the 1,500-acre campus, anchors a cluster of buildings dedicated to the DCE program that previously lacked a campus identity within the UCI framework. New classrooms, offices, collaboration spaces, and informal lounges expand the program's offerings and redefine its educational mission. The U-shape of the new facility presents a strong westward orientation to the campus center, embracing the existing buildings as a village and connecting to the academic core via pedestrian bridge.
A lively, buzzing social environment arises through the intersection of multiple circulation pathways and open, daylit informal spaces. The central courtyard organizes the design, giving users a sense of connectivity with the program, as well as the larger campus and the Irvine landscape. Stacked arcades surrounding the courtyard create an additional layer of connection between floors. Circulation also passes through the interior lobby and down one level to a second courtyard on the north side, with the potential to integrate with a future expansion site.
Photography: Lawrence Anderson