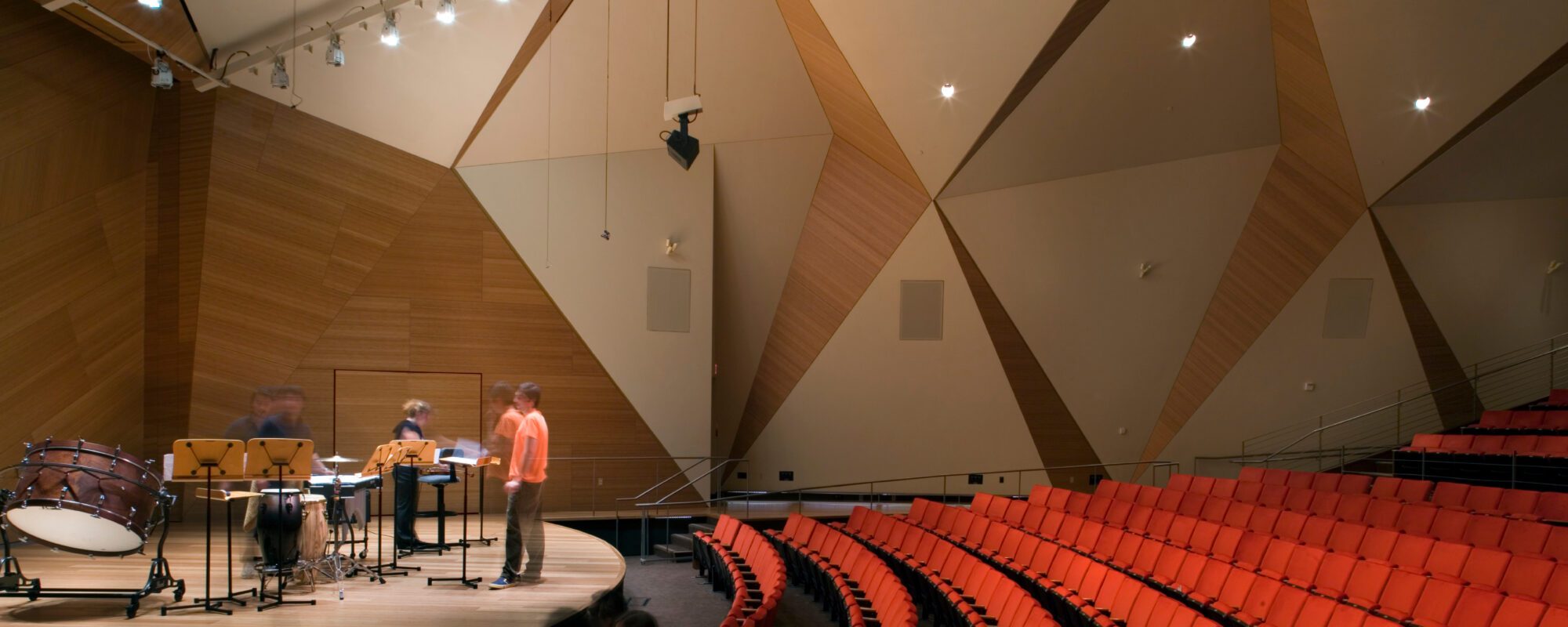 Conrad Prebys Music Center
University of California, San Diego
Location
La Jolla, California
Owner
University of California, San Diego
General Contractor: PCL Construction Services
Acoustics: Dr. Cyril M. Harris, Ph.D.
Theater Planning: Auerbach Pollock Friedlander
Structural Engineering: Magnusson Klemencic Associates
MEP Engineering: WSP Flack & Kurtz
Civil Engineering: KPFF Consulting Engineers
Landscape Architecture: Wallace Roberts & Todd, Inc.
Lighting Design: Auerbach Pollock Friedlander
Project Size
85,000 square feet
Seating Capacity
400 concert hall / 150 recital hall / 200 experimental
Project Status
Completed
Services
Architecture, Interior Design
Situated within the active campus core and its Arts District, the design advances the goals of the campus "neighborhood plan" by integrating public space, campus circulation and landscape with the school's highly interactive social dynamic.
The interior of the 400-seat concert hall is an asymmetrical system of triangular surfaces, carefully calibrated in collaboration with renowned acoustician Dr. Cyril Harris at every angle to optimize acoustical performance. The distinctive geometric form was generated from iterative experimentation and analysis that melds architecture, technical building systems and the science of sound in an integrated design process.
A 150-seat experimental lab is focused on "virtual" electronic acoustics, where musicians employ sophisticated audio systems and manipulate the sound environment to create their own sonic architecture. Other rehearsal and ensemble halls are designed with adjustable acoustics to accommodate a wide range of performance types, and the facility features the newest technologies in student recording suites, computer music labs, practice rooms and faculty studios.
Photography: Ed LaCasse, Nic Lehoux
Selected Awards
2011 American Concrete Institute, San Diego Chapter, Architectural Cast In Place Concrete Award
2010 San Diego Architectural Foundation Orchids & Onions Awards, Grand Orchid
2009 AIA Seattle Chapter, Commendation Award
2009 McGraw-Hill Construction Publishing – Best Higher Education/Research Facility in Southern California in 2009