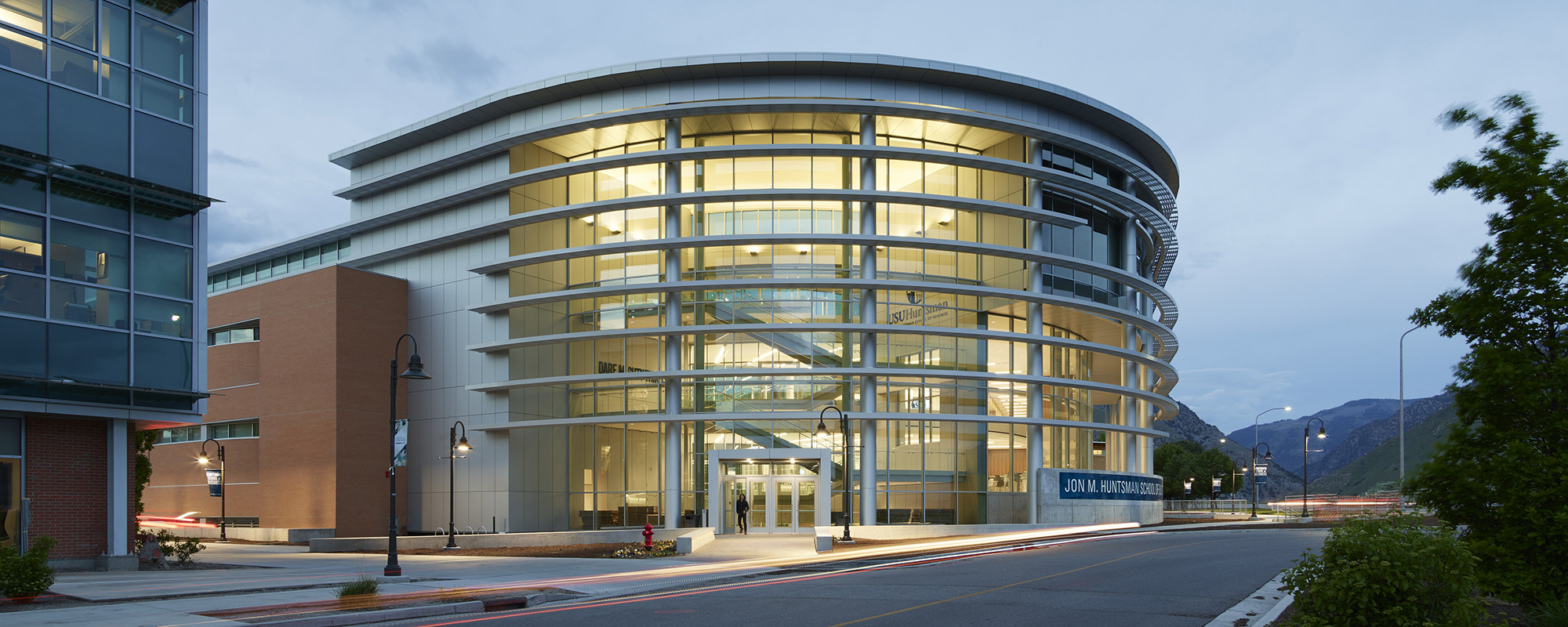 Huntsman Hall, Huntsman School of Business
Utah State University
Location
Logan, Utah
Owner
Utah State University
Associate Architect: Gillies Stransky Brems Smith
General Contractor: Spindler Construction Corporation
Structural Engineering: Reaveley Engineers & Associates
Mechanical Engineering: Colvin Engineering Associates
Electrical Engineering: Ken Garner Engineering, Inc.
Civil Engineering: Great Basin Engineering
Landscape Architecture: Gillies Stransky Brems Smith
Lighting Design: Ken Garner Engineering, Inc.
Graphics/Signage: Studio Matthews
Project Size
New area: 125,800 square feet
Renovated area: 10,100 square feet
Project Status
Completed
Certifications
Certified LEED New Construction Silver
Services
Architecture, Interior Design, Planning
Huntsman Hall reinforces the School's team-based pedagogy and creates an environment that supports the wide range of interactions that are at the heart of modern business practice and business education.
The project more than doubles the size of the existing George S. Eccles Building. In support of the School's community-oriented culture, the design interlaces break-out rooms and diverse interaction spaces with both tiered and flat-floor classrooms to cultivate face-to-face, small group activity. Huntsman Hall's distinctive curved geometry creates an interconnected community courtyard at the center of the School, dramatically staging the facility as a hub of business and academic relationships.
The upper floor houses research, student services and professional outreach with a flexible open plan office design, including a series of 'Centers' that expand the School's networking reach. A signature meeting room enables the School to host conferences and major indoor events. Openness of the interior plan and extensive use of glass in the building enclosure capitalize on the breathtaking views of Utah's Cache Valley and surrounding mountains.
Photography: Adam Hunter, Kevin Scott