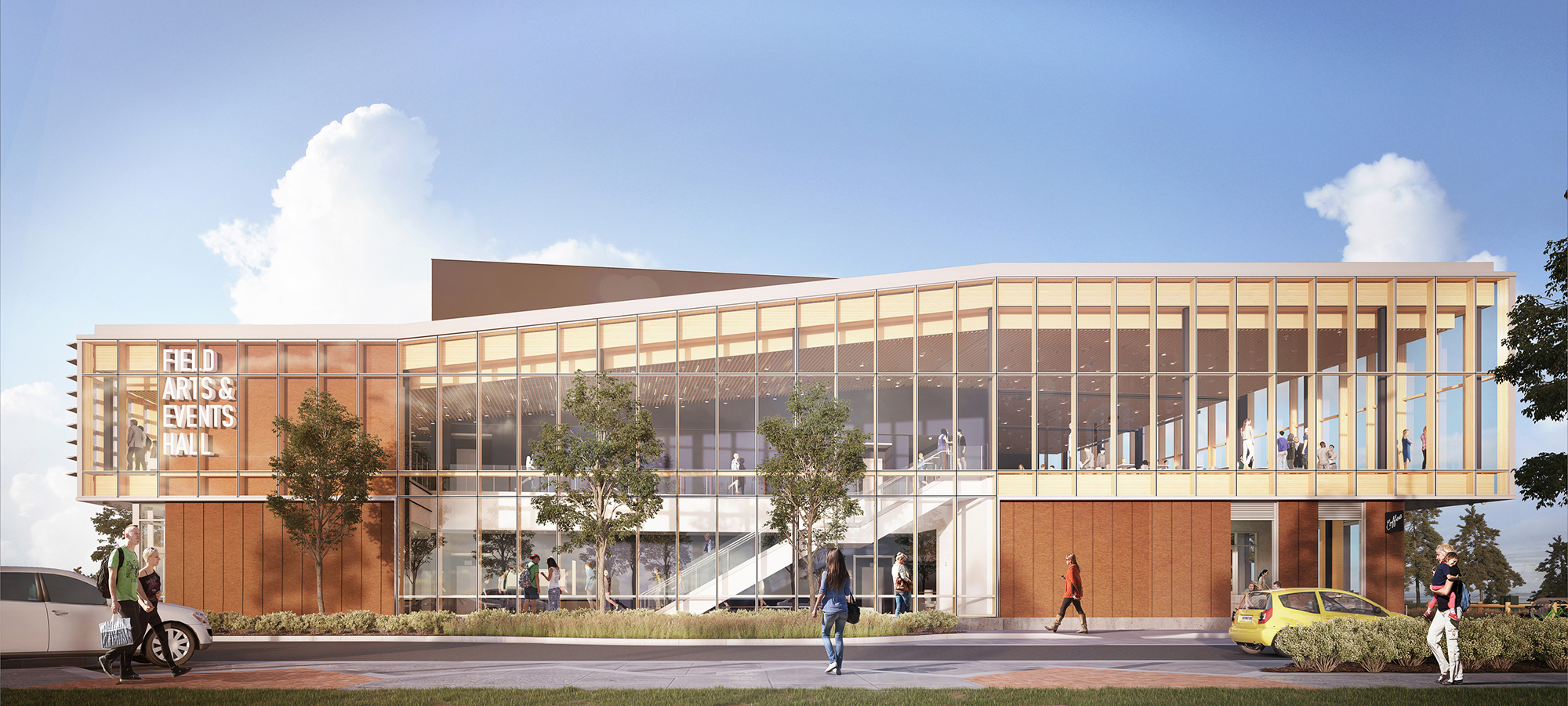 Field Arts & Events Hall at the Port Angeles Waterfront Center
Location
Port Angeles, Washington
Owner
Port Angeles Waterfront Center
General Contractor: Mortenson Construction
Acoustics: Jaffe Holden
Theater Planning & A/V: Shalleck Collaborative Inc.
Structural Engineering: Swenson Say Faget
MEP Engineering: Stantec
Civil Engineering: Zenovic & Associates
Landscape Architecture: Walker Macy
Lighting Design: Fisher Marantz Stone
Graphics/Signage: Studio Matthews
Project Size
40,140 square feet
Project Status
In Progress
Certifications
Targeting LEED New Construction Silver
Services
Architecture, Interior Design, Planning
The Field Arts & Events Hall, the first of three buildings dedicated to the arts, culture and science planned for the Port Angeles Waterfront Center, provides a new performing arts space and community gathering place on the city's waterfront. The building is designed to specifically support numerous community arts organizations and aspires to enhance the broader creative community of Port Angeles.
The spectacular natural environment of Port Angeles, framed by the Strait of Juan de Fuca and the Olympic Mountains, is captured within the architectural gestures of the building. Public space that rises from the street to a second level provides wrap-around views of the city, the water, and the mountains. Aqua green tones, wood ceilings and curtainwall mullions, and forest and waterfront beach landscape materials connect the experience of the building with its place.
An art gallery, conference center and coffee shop complement the performance space and welcome the community and visitors for a variety of activities throughout the day. The project serves as a new cultural hub for Port Angeles, rooted in its natural beauty, that elevates the arts and creativity within the community.