#postoccupancy, #classroom, #flexibility
Understanding Business Schools
Over the last decade, LMN has been actively involved in research and analysis of modern business education. This has encompassed the evaluation of leading programs across the nation, their relationships to larger academic and business communities, and their physical facility needs within the context of major university campuses. Through this process we have gained a great understanding of the role business schools play in developing local and global connections within the academic and business communities. These connections in turn leverage the value of interdisciplinary teaching and research, strategic partnerships and entrepreneurial innovation.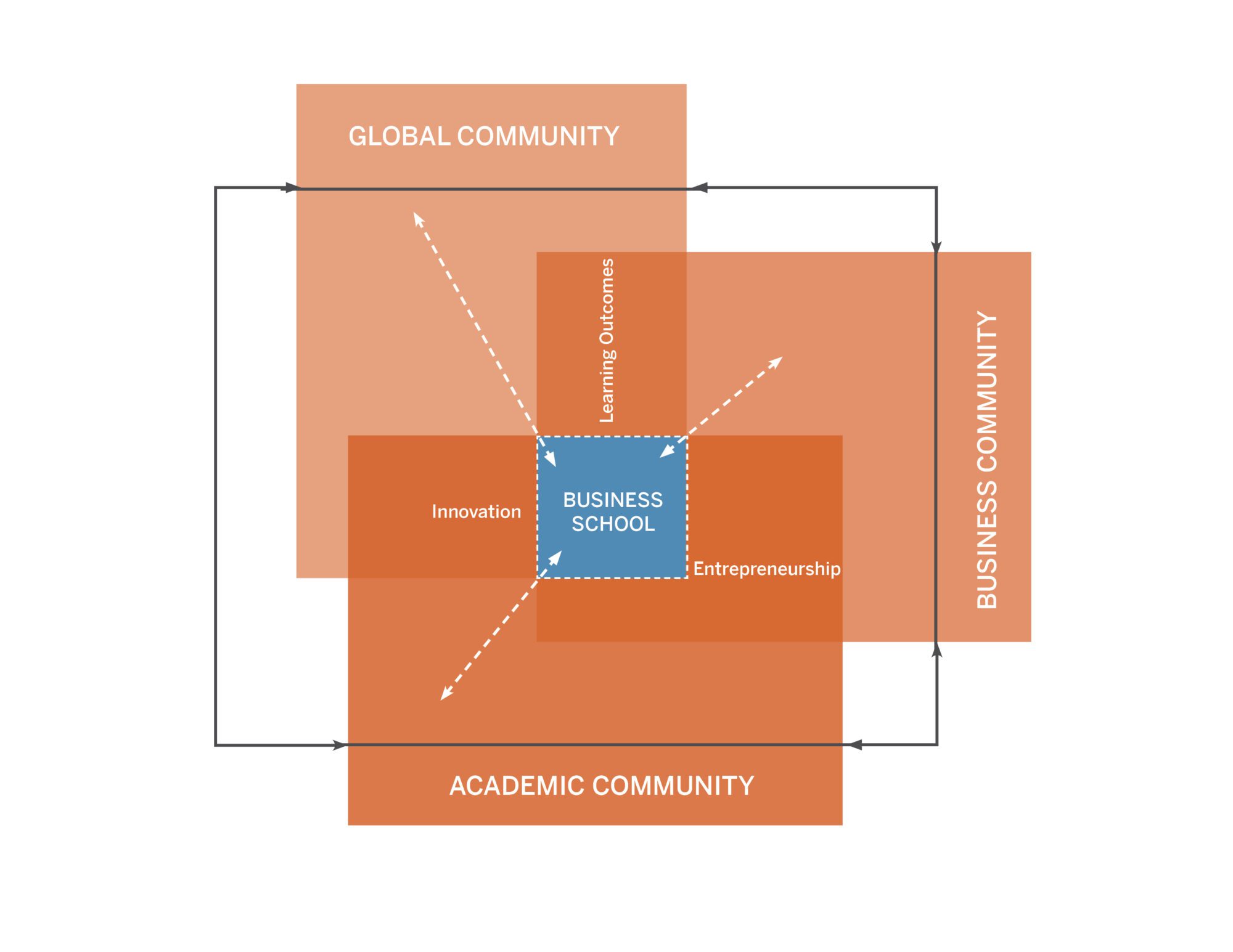 As part of our ongoing investigations in this field, LMN has performed extensive "benchmarking" of business education facilities across the country, as well as comprehensive post-occupancy surveys of our own business school projects. This has included the evaluation and analysis of overall facility organizations, academic program data, space data, technical building systems, and the functional and physical characteristics of program spaces: tiered classrooms, flexible classrooms, breakout rooms, faculty offices, etc. This information has provided us a clear understanding of emerging trends in the current business education marketplace, and the evolving planning and design possibilities.
Today, university students have instant access to technology, mobile communication and social media networking. Students interact with peers continuously and remotely, in a variety of settings, independent from the physical limitations of geography and their built surroundings. The available tools offer an exposure to diverse opportunities and the ability to engage and learn in unique ways. Despite the increased independence these changes afford students—from hosting meetings and group discussions in virtual forums to participating in online classes— the role of the campus and built environment is increasing as a place for collaborative engagement, shared experiences, and fostering a community of learning. Through our research and design work, we have looked closely at the future of business education with respect to the changing needs of the classroom environment and new models of pedagogy and andragogy which encourage active participation by the students.
Thoughtfully-crafted learning environments better engage students, encouraging self-motivation, and enhance collaboration. Within traditional classrooms, these changes can take the form of optimized spaces for student-to-student dialogue and discussion, with increased interactivity and student control of classroom technology. Classroom flexibility is needed to accommodate team based learning with instructor support as well as traditional faculty lectures. Outside the traditional classroom, breakout rooms and team meeting spaces become more important, and are required in greater numbers. Less formal opportunities for team meetings, spontaneous collaboration, and casual interaction are becoming increasingly important.

During our work on the University of Washington Foster School of Business we developed the project around the concept of an integrated community where the social interactions of the students and faculty, natural environment of the campus, and context of the surrounding buildings converged in a highly interactive community space organized in a series of interconnected elements that accommodate small groups, large gatherings and a wide variety of informal student programs, activities and events. Materials and finishes are designed for permanence, sustainability and durability while conveying warm, welcoming connections to the surrounding campus. The design provides an ideal environment for contemplation, collaboration, teamwork, student engagement and meaningful conversation, while supporting connections with regional business and global academic communities.