#postoccupancy, #social, #ecosystem
How Business Students Interact
A key issue in enhancing a school's culture of community is a collaborative dialogue between the design team and the client and user groups, at all phases of the process. The following is an excerpt from a post-occupancy research study LMN conducted in 2013 and 2014, in conjunction with the University of Washington and the Foster School of Business and presented at the regional and international conferences of the Society for College and University Planning. Joining the research team were UW university architect Rebecca Barnes, FAIA; environmental psychology researcher Janice Fournier, PhD; and two Foster School students: 4th-year undergraduate Shelby Neal and MBA candidate Gabriel Jones.
The results offer compelling insights on the importance of space design to the development of a successful social ecosystem in a program-specific university facility.
Peer Interactions
What kinds of interactions are most important to today's business education?
(survey size: 106 MBA students, 126 business undergrads)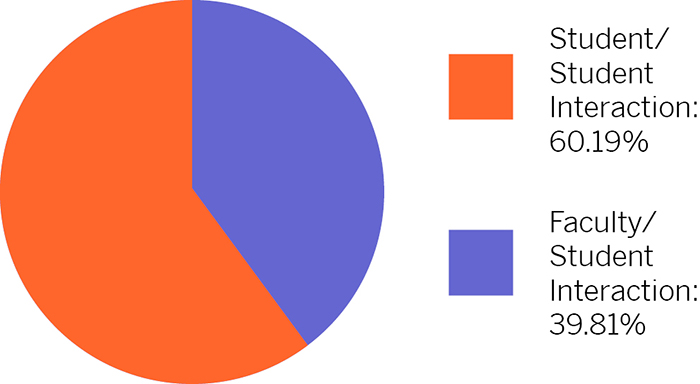 Time Spent in the Facility
Amount of on-campus time spent by full-time MBA students in the Foster School facility
Average amount of time spent per day by full-time MBA students in the Foster School facility, outside of class
Interactions and Student Goals
What interactions at the Foster School facility are important to your goals?
While building social networks and developing academic business skills are important functions of a socially active environment, MBA students indicate that most of their interactions—with the fullest range of people available in the facility—are in pursuit of career-related goals. These include changing or advancing a career, landing an internship, or finding future business partners.
Academic Communities
What are the most common territories for different communities in the facility?
MBA students and undergraduate business students exhibit markedly different space usage in the facility, reflecting the importance of addressing the differing needs of these communities in programming student spaces.
Interactions and Space
Where in the facility are MBAs' interactions taking place?
Peer interactions between MBA students are shown in red, while interactions with non-peers such as faculty, staff, or outside visitors, are shown in blue. Each number represents a different type of interaction, as indicated in the goals chart at left. The results demonstrate that classrooms host the greatest number of student interactions. Some spaces exhibit greater diversity of interactions than others.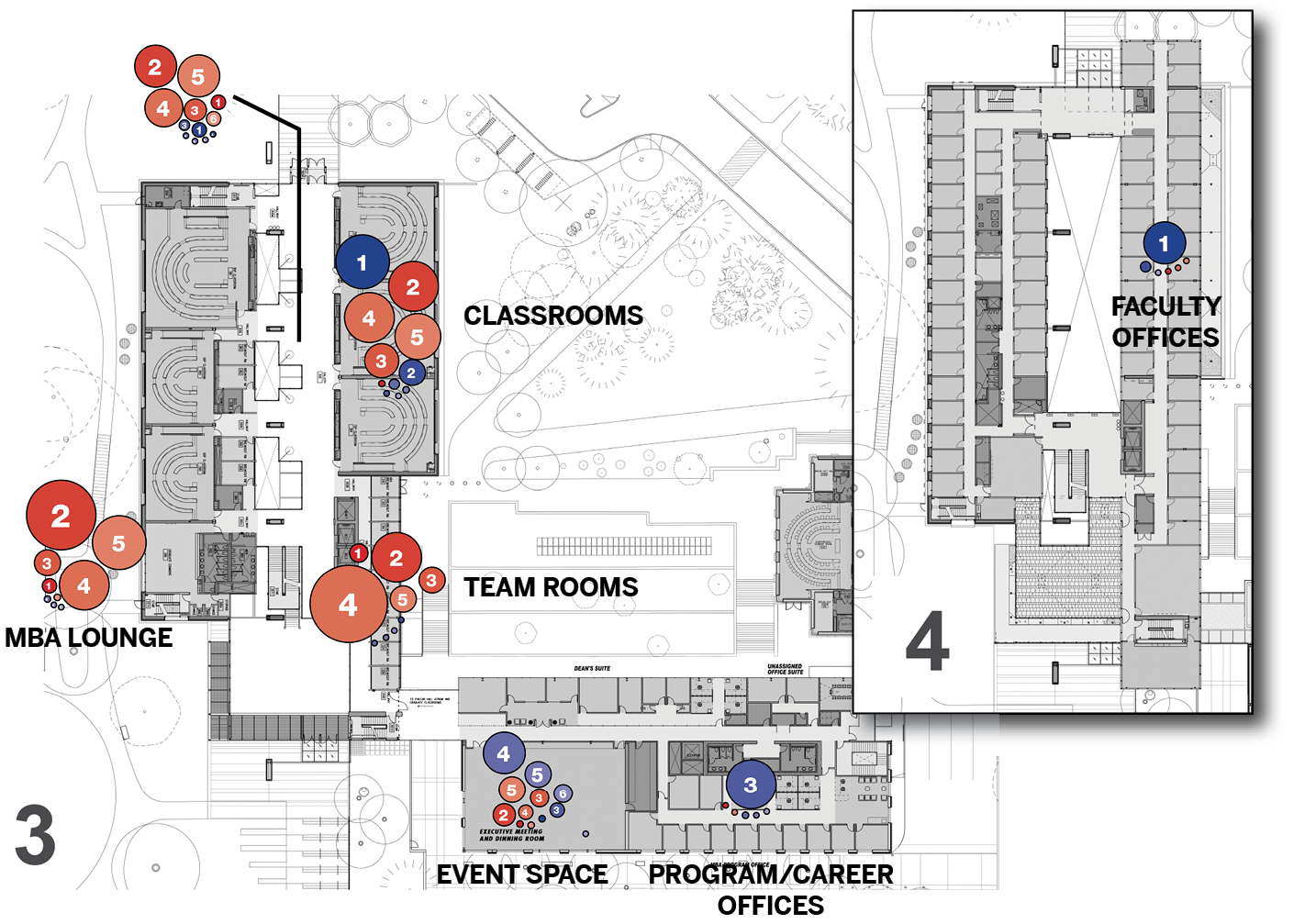 Assessing Social Performance
How can we assess the health or performance of this social ecosystem?
One way to think about the success of a social environment is its capacity for the development of social capital. As defined by social scientists, this takes two forms: bonding social capital (interactions within a group), and bridging social capital (interactions between groups). We posit both forms as necessary for success. Using diversity as a measure, we find a range of interaction activity occurring with a mix of bonding and bridging activity.